[ad_1]
new Delhi: Prime Minister Narendra Modi on Thursday paid tribute to the freedom fighters Bal Gangadhar Tilak and Chandrashekhar Azad on his birth anniversary and appreciated his contribution to the country's freedom campaign. The Prime Minister said that the grateful nation will always remember his contribution. PM Modi tweeted, "Blessings to the two brave sons of Bharat Maa, Lokmanya Bal Gangadhar Tilak and Chandrashekhar Azad on their birth anniversary."
Home Minister Amit Shah also paid tribute to Azad to Chandrashekhar, the immortal son of Mother India. He wrote in his tweet, "English rule was trembling with Chandrashekhar Azad ji, he said that" I was free, I am free, I will be free "and he will truly be free till his last breath. Burning the flame of freedom in the hearts of millions of youth. At the feet of such immortal sacrifice, a lot of worship. "
Salute to the two brave sons of Mother India, Lokmanya Bal Gangadhar Tilak and Chandrashekhar Azad on their birth anniversary.

– Narendra Modi (@narendramodi) July 23, 2020
Remembering Lokmanya Tilak, the freedom fighter, Shah wrote, "Lokmanya Tilak ji laid the foundation for important subjects like use of Swadeshi, education and Swaraj. His ideal life, struggle and patriotism still arouses the spirit of nationalism in the minds of all Indians. I salute them on the birth anniversary of such freedom fighter Lokmanya Bal Gangadhar Tilak ji. "
The name of the great revolutionary Chandrashekhar Azad Ji is synonymous with bravery, patriotism and sacrifice. He had so much love for the country and motherland in his heart that he started taking iron against the British from a very young age and then devoted his entire life to the independence of the country. pic.twitter.com/r2dBWYfoCI

– Amit Shah (@AmitShah) July 23, 2020
Uttar Pradesh Chief Minister Yogi Adityanath also remembered Chandrasekhar Azad, the great hero of the Indian independence struggle. He wrote, "A great tribute to the great freedom fighter of India, the great nation devotee, the exclusive worshiper of Maa Bharti, Amar Balidani, Veer Shiromani Shri Chandrashekhar Azad ji on his auspicious birth anniversary. For all eternity.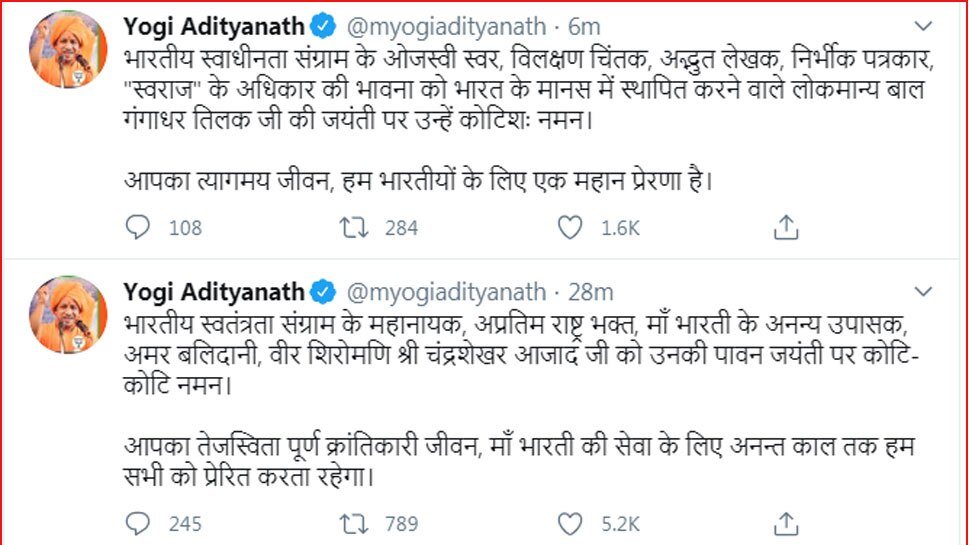 Azad associated with non-cooperation movement at the age of 14
Chandrasekhar Azad was born on this day i.e. 23 July 1906 in Bhabra in Alirajpur district of Madhya Pradesh. In 1920, at the age of 14, Chandrasekhar Azad was associated with the non-cooperation movement of Gandhiji. He was arrested at the age of 14 and presented before the judge. Chandrasekhar Azad's shooting was very good since childhood. After the Chauri Chaura incident in 1922, Gandhiji withdrew the movement, like all the young men of the country, Azad too became disenchanted with the Congress. After which Pandit Ram Prasad Bismil, Shachindranath Sanyal Yogesh Chandra Chatterjee formed the Indian Hindustani Democratic Union in 1924, a group of revolutionaries from North India. Chandrashekhar Azad also joined this team.
Azad formed a group of youths who liberated the country through armed revolution, including Shachindranath Sanyal, Batukeshwar Dutt, Bhagat Singh, Sukhdev, Rajguru, Bismil, Ashfaq, Jayadev, Shiv Prasad Gupta, Damodar Swaroop, Acharya Dharamvir etc. Were. Later, Veeragati was received on 27 February 1931 at Alfred Park in Prayagraj, who played a leading role in the Kakori incident, the murder of British officer JP Sanders and the bombings in the Central Assembly of Delhi.
Bal Gangadhar Tilak was born on 23 July 1856 in Chikhali village of Ratnagiri, Maharashtra. Bal Gangadhar Tilak used to be counted among the brightest students of the school on the strength of his hard work. In 1879, he passed his BA and law examination. The New English School was established in 1880 and Ferguson College a few years later. He first raised the demand for complete Swaraj during the British Raj. He gave the slogan 'Swarajya is my birthright and I will take it'. The British were overwhelmed by Tilak's revolutionary steps. He was tried for treason and sentenced to 'expulsion' for 6 years and sent to Mandalay jail in Burma.
During this period Tilak studied the Gita and also wrote a commentary called 'Geeta Rahasya'. After being released from jail, he started the Swadeshi movement. Tilak started two Marathi newspapers called 'Maratha Darpan' and 'Kesari' in Marathi. Tilak criticized the cruelty of the British rule and inferiority towards Indian culture. Popular freedom fighter Lokmanya Tilak died in Mumbai on 1 August 1920.
.

[ad_2]
Source link